Digging up the past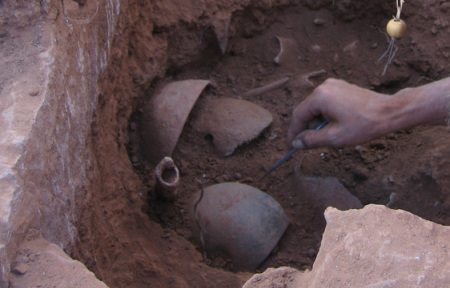 Tomb Raider...
This incredible cache came from a
Huari
site about thirty miles outside of Cusco, Peru. Based on the artifacts I uncovered, we surmised that this tomb belonged to a woman of great wealth and high status.
Among the relics I found hand painted bowls, arrowheads, figurines and copper jewelry called tupus. Unfortunately, unlike Sophia from my books, I had to turn them over to the authorities. (I might have forgotten to give them one or two small mementos from the dig.)
---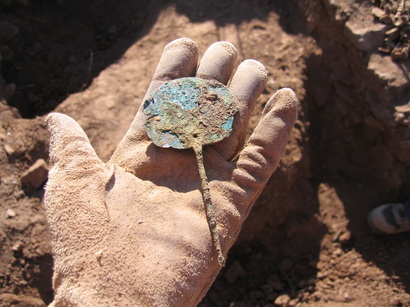 Ancient Bling...

The reason we know this tomb belonged to a woman of great wealth and most likely royalty is because of the tupus I uncovered. Only wealthy women wore them on their garments as stays to keep their robes closed. Traditionally they wore three of them. But I found twelve in this one tomb, indicating that this woman was very important to her people.
---
Warrior Woman...
This little bone figurine came out of the same tomb I excavated. It depicts a warrior
ready for battle. Similar figurines were discovered at other Peruvian sites, but this artifact was the first and only one of its kind found at
Cotocotuyoc;
another indication that this woman was someone special.
---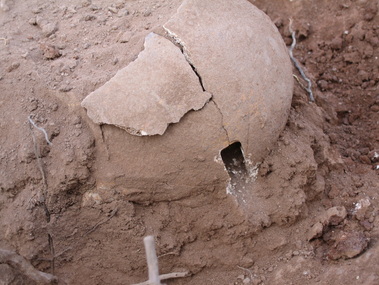 Hole in the head...
In the same tomb, I found the woman's skull with a trepanation in it. The skull dates back to over 1000 years old. This process was used as a way of releasing pressure from a head trauma; another indication that this woman was most likely in battle and suffered a blow to the head.
---


You can see for miles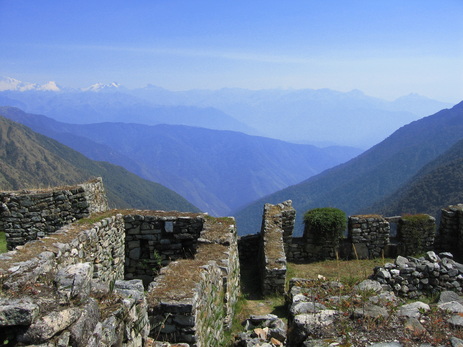 Room with a view...
I've always been fascinated with ancient civilizations and the magnificent ruins they left behind. Some stone structures, like
the Sayacmarca ruins along the Inca Trail in Peru, make you stop and ask;
why did they build it there
? Then I look at that amazing view and I know why they built it there.
My sister, Michele, and I came across this stunning ruin on the third day of our hike across the Inca Trail. Perched on top of a mountainside and rising nearly 12,000 feet above sea level, this incredible architectural marvel made me realize something. Those ancient people may not have had much in the way of materials and tools to help them create this city in the sky. But what they did have an over-abundance of was rocks and...
Patience!
---